Scheveningen is a popular oceanside location nestled in the western coast of The Hague and home to the aquarium, Sea Life. It was one of the many aquariums we had planned on visiting but the only one we had time to see during our holiday. It's a small and well maintained aquarium that seems to be popular during the touristy months. Since we came when the weather was less and than ideal, we didn't have to wait long before we could gain entry.
Sea Life has two sections. There's an indoor area which housed many of the fish and an outdoor region for otters and penguins. But Sea Life is special. It has environment paths that lead through faux rainforests. We walked over rivers that snaked through moist, darkened rooms lined with foliage. At one a point we spotted a sloth with tiny arms wrapped around the middle. It was a mother and baby only a few feet away.
Another breathtaking attraction featured at Sea Life, is the ocean tunnel. We watched fish made their rounds in the aquarium as sunbeams filtered in from over head. It's easy to get lost in an environment that captures the imagination and that's what Sea Life was for me. Standing under in the ocean tunnel took me back to my childhood. I would often watch the movie, The Little Mermaid, and dream about living in the ocean. The experience was nostalgic and left me speechless.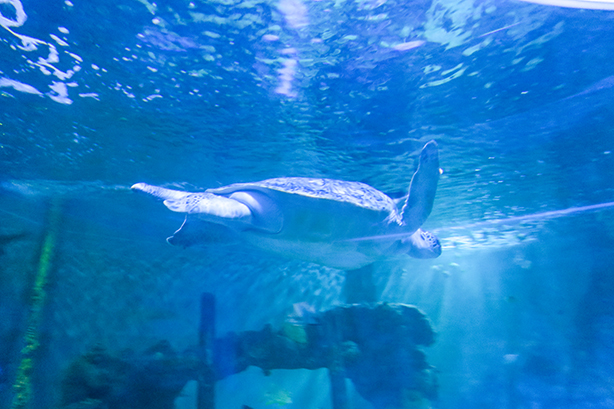 I would love to go back when conditions are warmer but the crowds would be overwhelming. Sea Life took a little over two hours. If we went on a sunny day it would taken double, not to mention standing in the lines for tickets. Either way it was a fun day trip for the two of us, and we will go back for more.