The one thing I love about minimalism is that you purge what makes your life hectic and embrace what you enjoy. I got rid of so many things when I came to The Netherlands. That included lots of unnecessary things from unworn shoes to clothing with tags still attached. While I cannot call myself a true minimalist, I do my best to keep free of unwanted clutter so that I can be stress free.
However that does not mean I can give up what makes me happy. What am I talking about? I mean personal hobbies! Aside from reading and collecting my favorite books, I have one other hobby that I thoroughly enjoy. What is it? Doing my nails!
My collection is quite small now. I had previously collected around 200 bottles of polish over the span of several years. When I did a giant purge (before Sander and I had started dating), I ended up donating most of those bottles.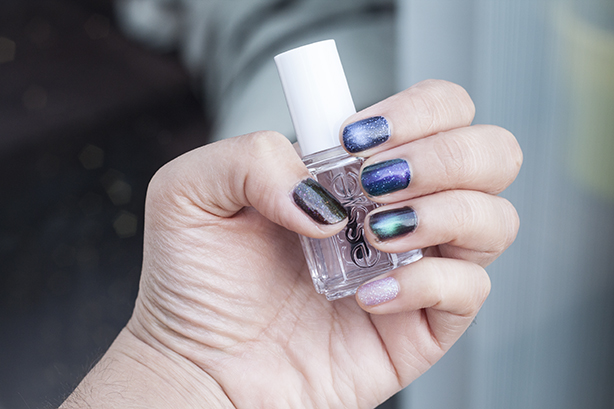 The last time I bought a few bottles were a few months ago and I was getting the itch to grab a few more bottles. I was very strict on my choices though. I kept to a theme that I wanted to maintain throughout the fall season and into winter. So how did I make my decisions?
I had two focuses, Halloween and Steven Universe.
Halloween
Colors by Llarowe – Kindred Spirits
This is a black jelly infused with intense green shimmer with flakes that shift from orange to red. I feel like the colors in this bottle contain everything about Halloween! It's dark and a bit witchy in low lighting but in the sun, the colors really shine. It's a magical color that really encompases the feel of Halloween.
Steven Universe
I've been hooked on this show and now that it's on a hiatus, I've been wanting to bring out galaxies on my nails. I couldn't decide between the colors I chose so I went for a ton of variation between the shades I ended up with.
Masura –  The Universe
Look at this color. You can't tell me you don't see a tiny galaxy in this! It's a violet jelly with magnetic shifts (meaning you need a magnet to achieve this effect). This photo really does not give the shade justice, as with many colors… If you want a tiny, no effort galaxy effect, you need this polish.
F.U.N Lacquer – Believe
This polish is something else… If you use a magnet on this, just the right way, you can have a ready made multi-colored galaxy! It shifts from green to blue, to purple and even pink. It's got a new effect each time I wear it!
Pretty Serious – Gluteus Equine
Holographic flakes and diamonds with lots of little flecks in between!
Bow Polish –  Good God
This was purchased to replace another polish I had that was very similar in color. I used it often for my green/purple galaxy nails and that polished finally dried up entirely. This is a good replacement because the effect is pretty close with just two coats.
Different Dimension – Counting Stars
Counting Stars is a unique holographic galaxy glitter topper. Super easy to create galaxy manis using our multi chromes and this galaxy in a bottle topper!
Femme Fatale Cosmetics – Lodestar
This is a Dusty pink with green shimmers that is absolutely stunning in person. If you want that delicate and yet striking look, this is the shade. It reminded me of a character from the series that's strong, ruthless, but loving at the same time. That's a lot of punch for just one character huh? Just like this color.
This was a pretty huge haul and I would probably not do this again. A few of the colors I had fallen in love with were limited editions (one is even sold out now, just a day after release!). I didn't want to miss out them. I simply wanted to indulge a bit and that's exactly what I got.
Once again, Hypnotic polish was fantastic, super fast and easy to use.
What colors are you going to be topping your nails with this fall season?