I'm pretty good at keeping my spending habits clean. I only pick up what is needed and not what is wanted. Which is why I felt a little itch to indulge this Halloween. One of the things we ordered was the October Tokyo Treat Box. This is a monthly subscription box that has a regular and premium option. We decided to go with the premium option because it includes a drink and a few other items.
For now these treats will be in two lists. The treats that we have tried and the ones we still need to eat!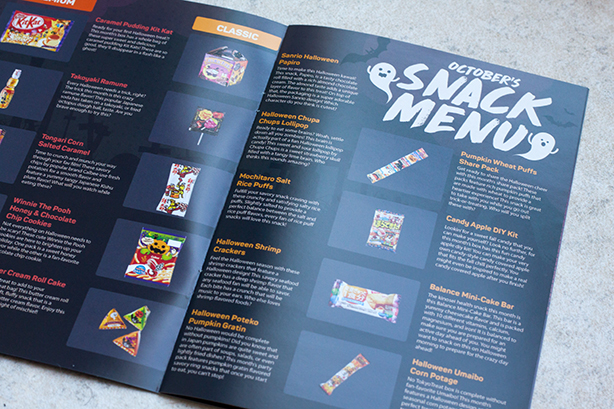 What we ate:
Caramel Pudding Kitkat
These are so tasty! It's white chocolate flavored a bit with caramel. While it's a bit too sweet for Sander's taste, I loved it. It's one of those must try KitKat flavors that you shouldn't pass up.
Takoyaki Ramune
I will admit this one is a bit odd. This drink was the trick that was included in the box. For those who don't know, Takoyaki are little dough balls that have different meats cooked into them. The most popular meat used is octopus and I love the way they taste! The texture of the drink is the same as any carbonated soda but the flavor was something else. It was a bit smoky and spicy but otherwise there was no real taste to it.
Tongari Corn Salted Caramel
This was like eating a super sweet churro! It's all sugar coated and crunchy. They're shaped like Bugle chips but this sweet variant is packed a lot of flavor! I couldn't really make out anything other than a lot of sugar though so the salted caramel taste was lost to me.
Winnie the Pooh Honey & Chocolate Chip Cookies
These were simple and delicious chocolate chip cookies! I couldn't taste the honey though.
Butter Cream Roll Cake
This was so soft and delicious! I wish that more than one was included. It was a soft sponge cake with a creamy butter cream filling.
Sanrio Halloween Papiro
These were little chocolate rolls. While they were hard cookies, they were still pretty damn tasty.
Halloween Shrimp Crackers
I'm a huge fan of shrimp crackers so I was excited to see these included. Sander skipped out on them but these were savory to eat.
Halloween Poteko Pumpkin Gratin
These were simple cookies that melted in my mouth! They didn't taste like anything but sugar though.
Pumpkin Wheat Puffs
These were crunchy bite size pieces that reminded me of chips. They were sweet though.
Balance Mini Cake Bar
I can't tell you what this was but it reminded me of those shortbread biscuits. I would eat this one again if I could!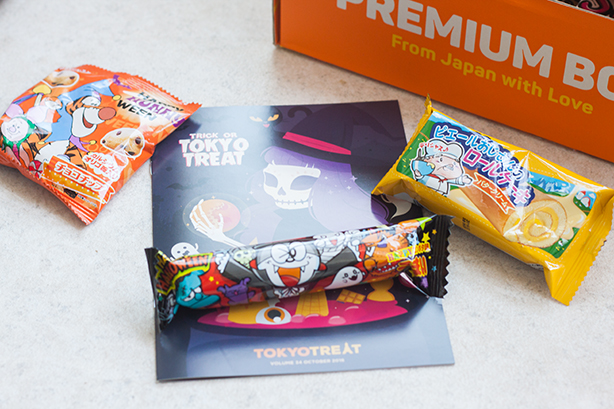 What we still have to eat
Halloween Chupa Chups Lollipop
Mochitaro Salt Rice Puffs
Candy Apple DIY Kit
Halloween Umaibo Corn Potage
I'll come back and update this post once we've finished all the items in the box. We've had it for three weeks now and still haven't finished it. The October Tokyo Treat Box was worth the €35 but it was a one time thing. If we do order it again then it would be for next Halloween. All in all it was a great box filled with delicious items that we enjoyed.