When Sander asked if I had wanted to first visit the Frans Hals Museum, I jumped at the chance. A majority of the museum focuses on its namesake, Frans Hals but other pieces are included as well. The tour began with a video detailing some of the history behind the painter. Hals was active during the Golden Age of the Netherlands, the 1700s, and was based in Haarlem. Hals was extremely detailed oriented and much of the film confirmed this. His fine lines used to create lifelike pieces of lace on canvas are breathtaking and it's much too hard to describe how beautiful his hands were. Not his own hands, but the hands of his patrons.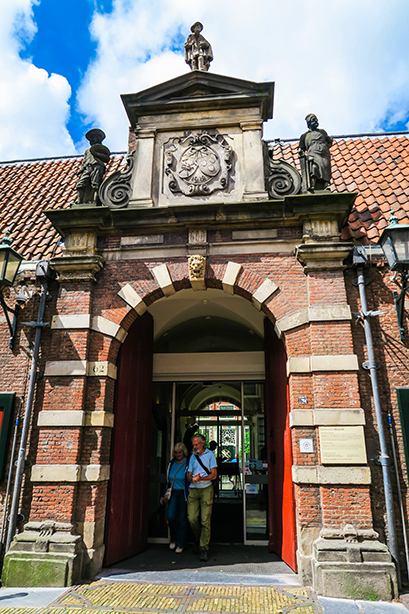 Franz Hals had talent in portrait making but his work also included a bit of still life. What was so unique about his paintings, was that his focus was dynamic movement in the illustrations. While he did have portraits of lords and ladies sitting for the artist, many of his large scale features were group gatherings, social events, and his subjects are true to life. He painted each person as they were, not idealizing them in anyway, which added more character to his realism.
Also within the museum was a large scale dollhouse filled with tiny trinkets so detailed that if they blown up into real proportions, the house would be a fully stocked mansion for a very wealthy family.
After we wandered the halls, we took a small break in the courtyard. Outside was a beautiful garden set up. Many people sat in the sun and allowed the warmth of it to chase away the shivers. It had been cold that morning but now it was perfect weather.
After that we wandered around the small streets, over canals and through the shopping district. I would love to visit again as they are always adding new exhibits. That's the refreshing thing about museums, visit one again in a month and there's always something new to see.