I love Ikea. What's not to love? The aesthetic and the feel of Ikea calls to me each time. I know it's the way they sell themselves, but I'm a huge fan. There was an article a few years ago that said something about Ikea being for 20 year olds. I beg to differ. Here in The Netherlands, Ikea is alive and well. While it's not considered to be a top brand name, I've seen a lot of Ikea in many homes.
Our trip today was for a few items that were on my list for a long time. We were there pretty early because we wanted to be in and out. It was not too crowded and we could find what we needed! There are a few highlighted items from this trip though.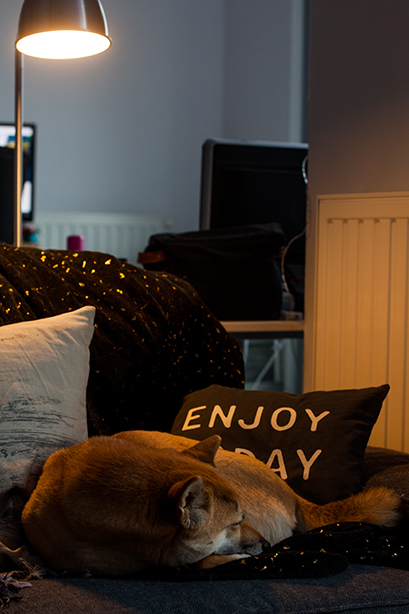 Light it up
Our house is too dark once the sun sets. We've been looking for a simple and practical light that would fit our space. The HEKTAR light ticked all our boxes. It doesn't seem out of place at all in our home and it's bright! We want to upgrade a few other lights in the house but that will come eventually. I know I have my eyes on a NYMÖ / SEKOND but Sander loves the IKEA PS 2014. We're going to have to sit down and talk it out!
Shine bright
I've been loving the idea of having more candles around the house. While it's not practical to keep them lit, I love how they look. It makes the place look cosier and a little more lived in. As soon as I saw the FÖRETE I knew I wanted it on my entertainment system. We got a single FENOMEN to keep inside. I doubt I will light this but I love the way it looks.
New greens
It's so hard for me to say no to plants. I've been doing a good job at keeping my current ones alive. So I decided to pick up a box of CACTACEAE. I haven't had a lot of luck in the past with cactus plants but I think I've turned over a new leaf (haha). I decided to stay with the white pots. They're beautiful and simple and I hope I can keep them alive!
The essentials
We needed an upgrade in the bathroom and in the kitchen so we opted for new soap dispensers. Our bathroom is white and has light wood accents so we got a DRAGAN soap dispenser and toothbrush holder. For our kitchen we got a BALUNGEN. We also picked up new light bulbs, a few toys for the dogs, and a few Christmas gifts.
All in all the hour and a half we spent there was well spent! We hardly ever venture into Ikea because it's crawling with so many people. The last time we were there was to upgrade our closet. Our house is coming together. We still have a lot to do but it's looking a little more polished each day.