My first convention was San Diego's Comic Con back in 2002. I was a freshman in high school. The first friends I made invited me to join them for Comic Con. This opened up the gateway to conventions for me.
That summer will always have a place in my heart. Comic Con had been huge. It was a true comic book fan experience with hardly any Anime influence. I was a superhero virgin, as in I was unfamiliar with the worlds of Marvel, DC, and even Dark Horse. As a child, I grew up watching Studio Ghibli films. I was out of place in this land of comic books and geekery.
Now days I take a look online and see Comic Con is a mashup of a thousand different interests under one roof. I also see that attendance is through the roof. So how did the Netherlands version of Comic Con (the Amsterdam location) hold up to the well known and beloved San Diego convention?
First Impressions
Two main halls were the major events took place. There was the Dealer's Hall and the Food Court. Sander and I flocked to the Dealer's Hall first. We're big collectors and the Dealer Hall is always fun to explore. We stumble onto figures or collectibles that we'd love to own but cannot justify buying. There's a figure I know I've had my eyes on for a long time but like I said, I can't justify buying it so I admire it from afar.
There were also gaming stations set up for people to try out new games. What was cool to see, where vendors who were selling old school games, like Atari or Sega, and we even saw Pokémon Snap! I wasn't willing to pay €25 for it though.
There were also panels that were free to attend. From what we saw, stages had been set up throughout the two main halls and the panels took place on those stages. The set up was pretty simple, find a seat and listen as best as you can to what had to be said. The noise level was loud in both halls.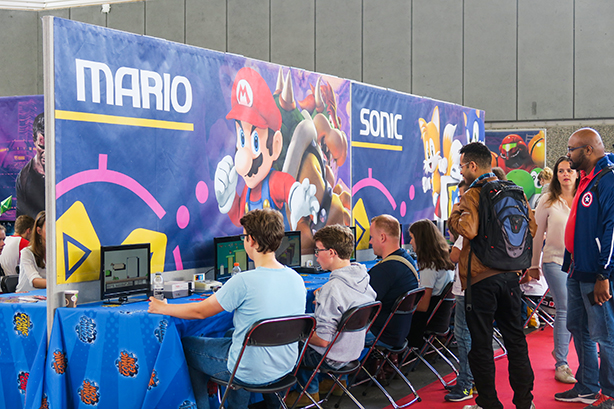 Celebrity attendance was impressive for such a small venue. I call it small because I've been to Comic Con SD and Anime Expo and this was small by my standards. Names like Billy Boyd, John Rhys-Davies, Lyndsy Fonseca, Ellie Kendrick, Camille Coduri, and Colin Baker were in attendance! Alas, photos for pay only as were autographs. Sander and I were a bit star stuck when we saw various faces from afar. That's as close as we could get without having to pay.
It took us about 2 hours to cover the entire Dealer's Hall and we did two runs through it. We walked away with a couple of goodies. I got a set of Pokémon Gym badges from the Kanto region as well as a Halloween Pusheen from a blind box set. I got the Candy Corn one and it's super cute!
Final Thoughts
While the convention was fun to attend, it was quite small and easy to navigate. Sander and I usually spend our weekends with Booker and taking long walks in the park. I enjoyed attending this venue even though it was pretty small. The line was pretty much nonexistent to get in and that was a super plus. I have fond memories of waiting hours to get my badge for Anime Expo, man those were the days. These small cons are intimate and so much fun to walk through.
Even though many of the cosplayers don't have "professional" grade outfits, it's lovely to see the creativity, time and effort. I remember those days were I would only be able to afford minimal supplies for a cosplay but I made it work in the end. For the attendees here, that's what matters. They are representing something they love. Those feelings of passion have no language barrier.