Spring is a time of rebirth and a time of reinventing. Unfortunately for me, I'm still sick, I can't spend time outside without being too cold and coughing up a storm. How else can I pump myself up without being able to bask in the sunlight? By doing my nails! It seems like a trivial thing, I know but there's something about painting my nails that's both comforting and rejuvenating. So while I can't enjoy the spring flowers all day, at least I have something pretty to look at… Right? Here are the colors I plan on wearing this spring (not all at once)!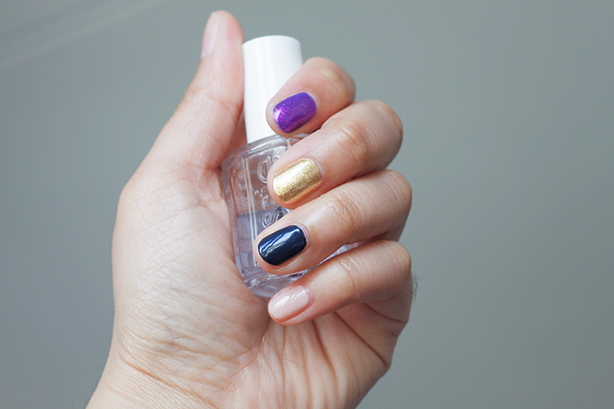 Ultra Violet
Colors by Llarowe: Connie, You Saucy Minx (I believe this is discontinued)
We all know that Pantone's choice for this year is Ultra Violet. Connie, You Saucy Minx is a bold ultra violet with magenta flakes in it to deliver a high impact glow. It's a striking color that looks rad on any skin tone. It's high vibrancy means that's a statement in itself. If you're like me and have a monochromatic wardrobe, a color like this one will take everything to the next level. If you want to invest in this year's color without changing up your wardrobe then a nail polish like this will help achieve the look with minimal effort and cash. It goes on opaque with two coats.
Metallic
Masura: Crisp
I used to dislike gold but with shades like this… I just can't resist them. This is a beautiful and high sheen color that's bold and glittery all at once. I've had gold polishes before but this one is very metallic compared to my other shades. It's dull by any means and doesn't need a top coat to fully shine. It goes on smooth is difficult to apply unevenly. If you're looking for a bright shine with class then this is the shade to reach for! Goes on opaque with two coats.
Blue
Formula X for Sephora: Wunderkund (also discontinued)
Navy is such a common color for dark polish lovers so why not take it to the next level This deep prussian blue contains subtle shimmer embedded deep within the base. It's clearly visible in sunlight but in the shade it looks like a solid color. It works perfect if you want a toned down look that can take it up a notch. It's a very chic shade that I find is the perfect balance to any outfit. It's like black without being so dramatic.
Pink
OPI: Bubble Bath
There's nothing more traditional than this shade. I've seen it everywhere for years and it's such a popular color. It's a natural pink hue that's flattering when a more natural look is desired. It's also very popular for weddings so if you're looking for a more feminine look then I would highly recommend it. It also looks fantastic sheer so you can't go wrong either way. This polish is opaque with three coats.
Au naturale
Who doesn't love an all nude nail? And by nude I mean sans polish. The best way to rock a polished look without the polish, is to care for your hands. Moisturize them and keep the nails filed or cut smoothly. If your nails look fab you don't need to wear a polish to make them stand out. Just be confident in your look and that's all that matters.
What colors will you be wearing this spring?