It's been a while hasn't it? I told you guys I'd be going on vacation! It's been a a little over a month since then but I needed time to recover because I ended up with Ms. Rona… I'm doing better now and I'm prepared to share about our trip to the Asten Castle in Asten, Netherlands. Visiting the Asten Castle was one of the few things I got to do before I got sick. It was a beautiful and haunting ruin to visit, filled with history and tragedy. So without further ado, let's get into it!
Abandoned but not forgotten
Located in North Brabant, Asten, Asten Castle has stood against time for over 600 years. It's been decades since the Asten Castle had occupants. Many of the efforts to restore it have fallen through. We had a wonderful tour guide to explained to us the origins and history.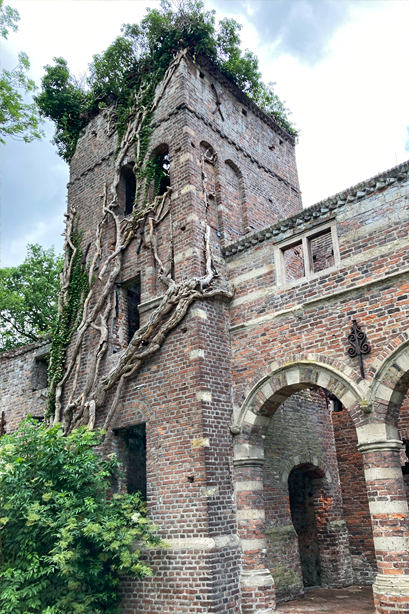 The most recent disaster to hit was World War II, which sealed the deal on the Castle being a ruin. It may have been erected as far back as the Middle Ages and was used as a fortified house. During the Dutch Renaissance it was converted into a castle by Bernard van Merode. There are double moats around the castle and a 2 bridge system as well. There is even a basement where food was stored during the summer. It's cooler underground so the natural lower temperature helped to prevent food spoilage.
Outside sits a small wall, a memory of the past. It had been a dungeon where witches and even a werewolf had been held for trail. I wish our tour guide had more information!
Peaceful Grounds
The area around the Castle was lush forest and not 1but 2 moats! There were a lot of activities both for adults and kids. And the ruins itself was amazing to explore. The architecture was beautiful, even if most of it was far past the glory days. What was interesting to see, was what was missing. Locals had dismantled a few rooms for the bricks and the stone so areas, like the main seating hall, were missing. Instead the curator had displays to show where people might have spent their evenings.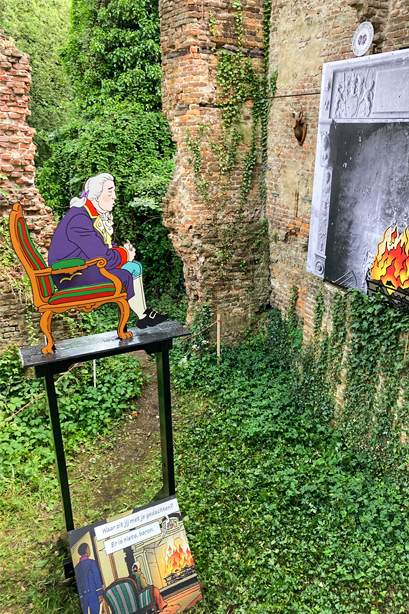 More than Historical
These days Asten Castle is a national monument. There have been some talks about bringing it into the modern age but nothing set in stone. It's currently a private piece of land but tours are available. The wonderful think about Asten Castle, is that it's more than a piece of history, it's a piece of heritage. As with many European countries, that heritage isn't always the most wholesome. But the Dutch are doing their part in educating the next generation of Dutch citizens.
Castle Day
We happened to be in the area in time for Castle Day. That meant that the courtyard was alive with activity. There were food vendors, live music, and craft beer for sale. While we didn't stay for any of the food, we had a wonderful time. There were demonstrations on many interesting topics, including Dutch bee keeping! For the children, there was a ton of stuff to do. Plenty of games, activities and even a story telling event in the forest. To get to the story teller, kids had to travel the path and answer questions about the nature around them.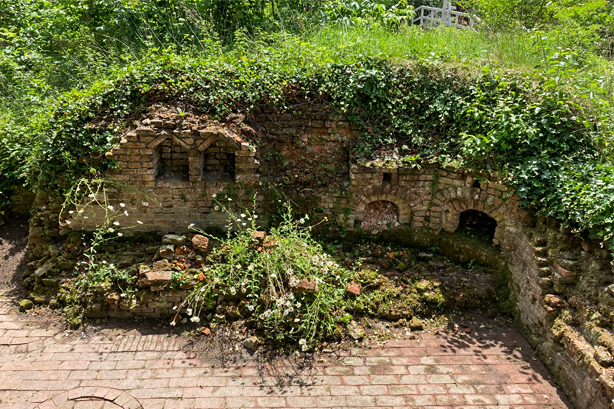 Final Thoughts
I'm thankful we were able to experience Asten Castle. It's not open everyday to the public and we came at the right time. I love visiting historical landmarks and ruins. They tell a story from the past and that's exactly what Asten Castle is. It's fascinating to see how old buildings were constructed, and how they stand up to the test of time. It's disappointing that much of the castle was destroyed. But there are still memories to experience at the location. Asten Castle is a delicious slice of Dutch history that I, as an immigrant, love eating up.
Much of the information here is from the Dutch Wikipedia page and from our tour guide, but you can also find good details on Castles.nl.