It's so cold that we've been staying home with the dogs instead of going out. Today it hit 25° and my fingers were aching by the time we got back home after walking the dogs. So I figured it would be a good time to give you guys an update on baby Haru.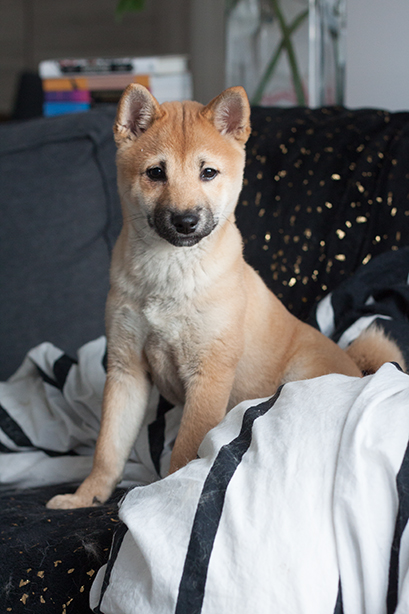 Haru is now a little over 4 months old and growing like a weed. She's got all her shots (expect her rabies, we will be getting that soon) and is a healthy puppy. She still smells like puppy so I take every chance I have to hug her.
Owning two Shiba Inu
Haru's breeder encouraged us to get a male to complement Booker. She said that two females have the potential to become territorial with each other. Sander and I had discussed this for a long time. We wanted two females because it would be easier for us.
There are a lot of unneutered males in the neighborhood and we didn't want to start fights with those dogs. Sander's parents also have two female dogs. Shiba Inu are wild in nature, no matter what the gender is. We figured since Booker was already spayed, it would be alright to bring in another female. Haru will follow in Booker footsteps when she's old enough. Right now the two of them play fight more than anything. They get along well though. Only time will tell how this duo will end up but for now they're fine.
Walking them sometimes can be a nightmare. They have their own idea on what is the ideal place to potty. I don't know how Sander does it while he plays Pokémon Go in the mornings. I need both hands and all my wits to prevent myself from falling over in entangled leashes.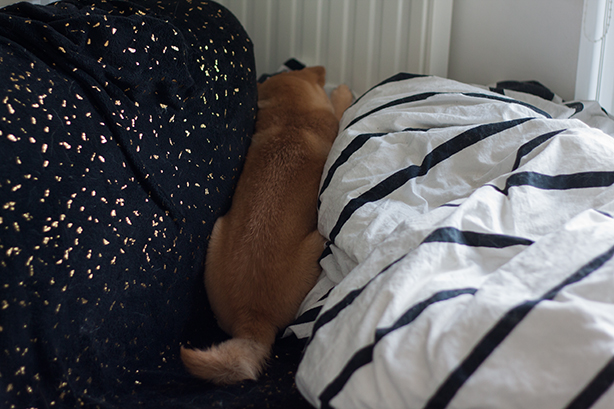 Where the dogs sleep
Haru remains in her crate from lights out until sunrise. Booker wanders from our bedroom to the couch in the living room. We're fine with the dogs on the couch. If Haru could sleep anywhere, it would be on her a favorite couch pillow. She also enjoys sleeping by the heater on these especially cold days.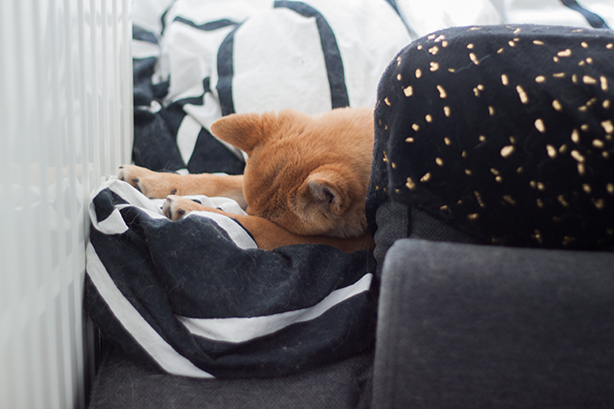 Booker seems to believe that the couch belongs to her so I'm curious to see if Haru will muscle her way in when she's allowed to be free. Currently they do just fine together but once it hits late night, Booker is determined to keep the couch to herself. I was up late recently and saw this first hand. She was very upset that Haru was sleeping on the couch. Of course, that meant that Booker could not sleep there without barking, so she was banished to the bedrood. Haru and I watched a bit of TV but when I was ready for bed, she was back in her crate.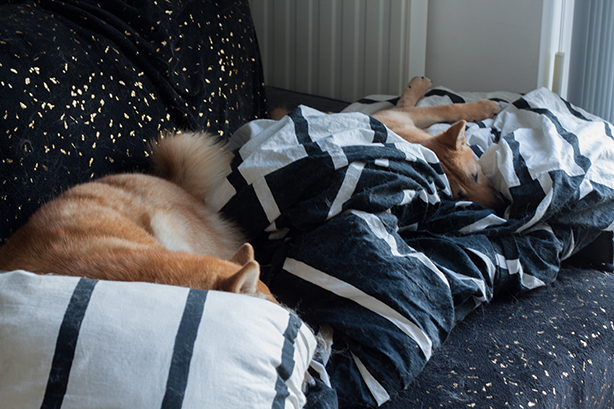 Pups at play
We haven't had any complaints about the dogs being too loud but I worry every day. Booker likes to bark at Haru for attention. If the barking gets to much, Booker has a time out in the crate. Usually the two of them will settle down and nap most of the day so the noise isn't at all hours.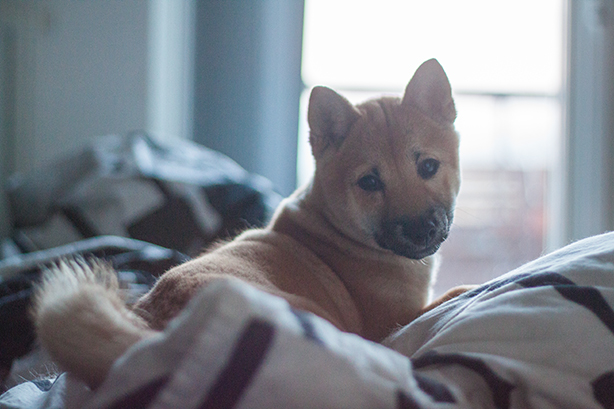 When we take the dogs out for walk, we encourage them to run in circles. They need to be leashed at all times so we feel bad about them having a limited range to run. In the warmer months, we will take them to dog specific parks where they can be off leash and run to their heart's content!
I cannot wait until we can do that but for now, we're all hiding away as the temperatures dip down to below freezing!