We had a few things to do in Amsterdam this weekend so we decided to drop by Oosterpark to get away from the city crowds. Autumn in The Netherlands is such a beautiful time. The colors are vibrant and the scents are strong. There's a distinct nip in the air and everything feels more mysterious.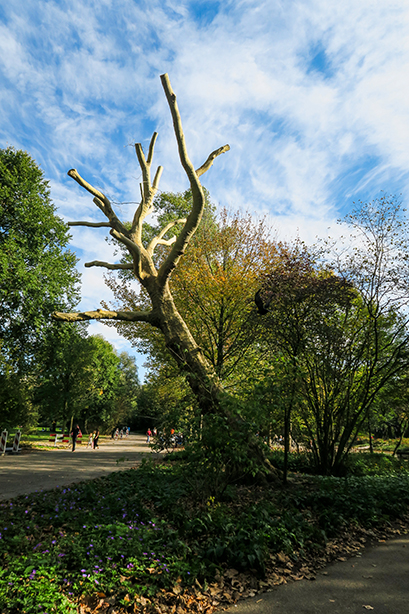 We've never been to Oosterpark before but it's the same as any other large park in The Netherlands. It's roomy, beautiful, and filled with both art and culture. These neighborhood havens are a great place to have a picnic and get away for the day. There was a huge playground for kids to hang out while their parents watched them. Dogs were everywhere and most of them were off leash. Where I came from, this was never allowed but to see it here…
It still blows my mind with how laid back the Dutch are. Mothers (and fathers) and baby strollers were also a plenty. What made us laugh the most was an all black baby carriage with a small gothic parasol… It looked as it had come right from an Addams Family movie!
This sunny, warm weather is unusual for October and everyone was out. We saw so many people sunbathing for that last bit of tan before the winter. And of course everyone was on bike.
The only downside about this weather in The Netherlands, is that it's hard to dress for. I find myself over dressed more often than not. The temperatures can be low in the  morning but can be too warm by the time lunch comes around. Luckily for us, we didn't spend all day outside. Although it was a short walk in the park, it was a lovely one. And it's most definitely not the last of our autumn walks!