I love the taste of apple pie. I love the taste of pancakes. This time of the year is perfect for mixing them both into one delicious meal! For months we've been using a modified recipe for pancakes and I finally feel like it's time to share it. But to add a bit of an autumn twist, I've added in a few new ingredients that take it to the next level. This is so that my Dutch neighbors can enjoy it too.
This is because these pancakes have a special ingredient that isn't found in America. It's called koek & speculaaskruiden. It's a delicious blend of premixed gingerbread spices in a single bottle.
I found a good recipe for making it on Zoet Recepten. The website is in Dutch though!
How do these Apple Buttermilk Pancakes taste? It's like biting into a super soft apple pie. Of course there's no crisp crust, but you can have this for breakfast without feeling guilty.
Apple Buttermilk Pancakes
Servings: 6-8
Difficulty: easy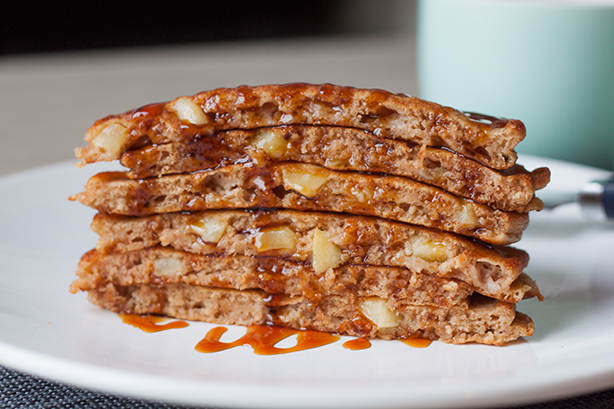 Super fluffy pancakes with delicious pieces of apple in each bite.
Ingredients
2 cups all-purpose flour
1/4 cup white sugar
2 teaspoons baking powder
1 teaspoon baking soda
1 tablespoon speculaaskruiden
2 cups of karnemelk (buttermilk)
2 eggs
1/4 cup butter, melted
1 1/2 cup diced apples
cooking spray
Directions
Skin and dice apples into small cubes.
Combine all dry ingredients in a large mixing bowl.
Add in karnemelk first, then butter and lastly the eggs. Mix well until all lumps are gone.
Add apple cubes to the point where the mix is still mostly batter. The cubes must be all covered otherwise it won't hold together in the pan. Extra cubes can be used as toppings.
Heat a pan over low heat and coat it with cooking spray. Pour 1/3 cupfuls of batter into the pan and cook until bubbles appear on the surface. The batter will rise slightly and cover the cubes. Then flip the pancake and cook until the other side is browned.
Serve with thick maple syrup or Schenkstroop