October 4th is World Animal Day. It helps to promote better animal care standards, but also reminds us that animals are living and breathing creatures. It's a fantastic day to donate to local shelters or even adopt a pet that's in need.
We have a full house so we're unable to do that. What we can do is give our dogs a little extra love. I figured now would be a great time to give an update on how our ladies are doing.
In case you're new to this place, Booker and Haru are our two Shiba Inu ladies. Booker is now 2 years old and Haru's 1st birthday is fast approaching. We'll be celebrating their birthdays together since I didn't want to have to make two cakes for them. They get along so well and love each other like blood sisters. Booker is always cleaning the baby and acting motherly towards her. They fight like cats sometimes but it's never in anger.
Sander says that Dutch pets are often spoiled on World Animal Day. So we got a new bed for our dogs! But they have a love/hate relationship with it so far though. These two are already spoiled rotten.
They sleep in bed with us every night.
They never run out of chews or toys.
They get long walks throughout the day.
They're brushed all the time. (Shiba Inu are quite hairy dogs)
They're pampered every day.
What more can a dog ask for?!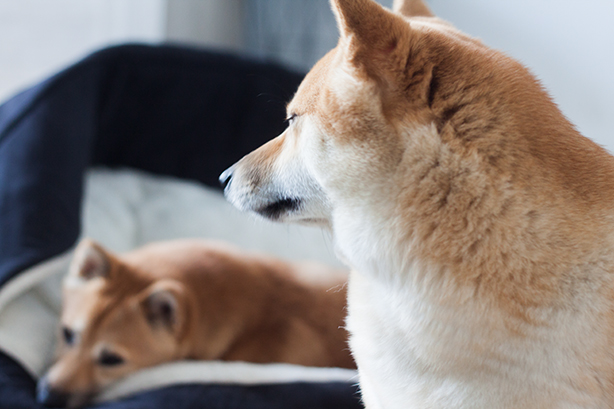 What I also love, is the attention they get from strangers. Shiba Inu aren't too common in our neighborhood so everyone knows them. These ladies are friends with all the other dogs too. Getting a dog was the best decision we've made. I leave the house to walk them and I've met so many people because of it.
My favorite story of the neighbors and our dogs is the one with the groceries! We were walking the dogs and one of our neighbors caught sight of baby Haru. She was on her bike and had a ton of groceries with her. But she didn't care! She had to stop to say hello! She ended up spilling most of her groceries on the road. She also had to scramble to move because a car was coming but she didn't care. She got to meet Haru for the first time that day. Our neighbor was so excited!
So if you have an animal friend in your live, please show them a little extra love today. We sometimes take "man's best friend" for granted and they live shorter lives than we do… For now I'm going to love these two girls as much as I can!