It's been a few months since I decided I wanted to invest in crystals. I can't say that I've felt any healing power from them but I sure do like the way they look.
I spend a lot of late nights looking at crystals on my phone. It's just so that I can fawn over the beautiful rocks. But it makes no sense to me to order them online. So when I found out that the International Minerals Fair was going to be coming to The Netherlands… You can bet I jumped on those tickets right away.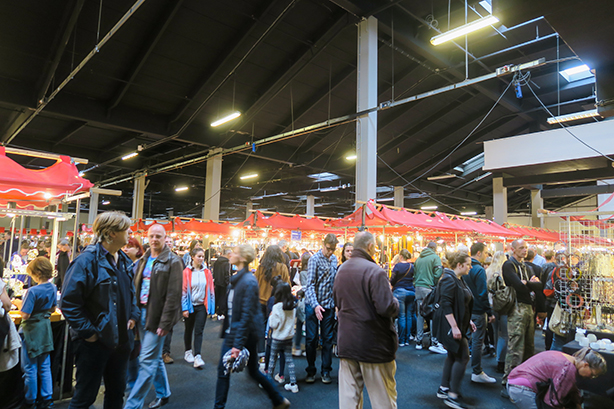 Picture this: Rows of booths filled with glimmering rocks, crystals, gemstones. The hall bustled with busy vendors and customers that needed a closer look. It was difficult to move on some cases because of some of the more popular booths.
But the items on display were something else… We saw rows of glittering crystals, polished stones and precious gems on display. There were gigantic geodes that had cracked open to expose tiny caves of amethysts. I saw tables filled with thousands of necklaces, mandala beads, and jewelry making materials. We even found vendors that sold unique fossils in all shapes and sizes.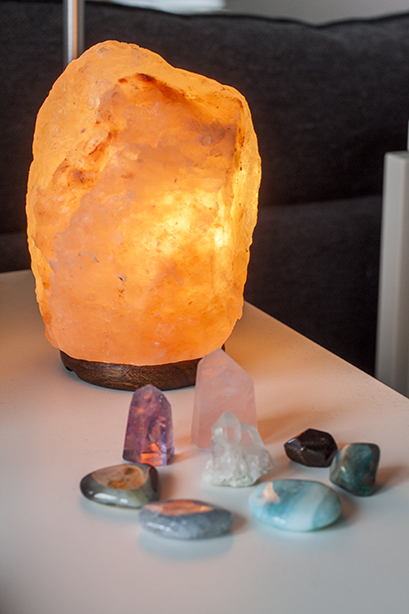 My main reason for going was for a himalayan salt lamp. I love the way the light bulb glows from within the stone. I had been searching for months. And low and behold I was able to grab a beautiful lamp!
I also ended up with a few beautiful rocks and crystals that stood out to me. Of course I had to pick up some amethyst and rose quartz but other stones also caught my eye. I loved the look of amazonite and celestite, to name a few.
What I love most about collecting these few stones, is that there are no rules. It's about finding what speaks to you and how they make you feel. For me I enjoy looking at my stones and admiring them. It's the similar feeling of going to a beach and picking up a beautiful rock. These rocks were shaped by time and the earth into what it is now. It allows me to ground myself in the here and now.
Some people with anxiety like to use different methods of dealing with it in public. I read that keeping a pocket stone is a good way to stay grounded. The unfortunate thing for me, is that even though I picked up a few of these pocket stones… They're too beautiful to keep in my pocket! For now they sit on my desk where I can look at them and admire their beauty! I'm not sure if I will buy more crystals in the future but I had a great time at the International Minerals Fair.