Reading is one of my favorite ways to pass time and yet my Goodreads account says otherwise. I'm way behind in my reading challenge for this year and I've been on the same books for a few months now. This doesn't stop me from dreaming of the next titles I want to read though so here's a list of books that I'm dying to read.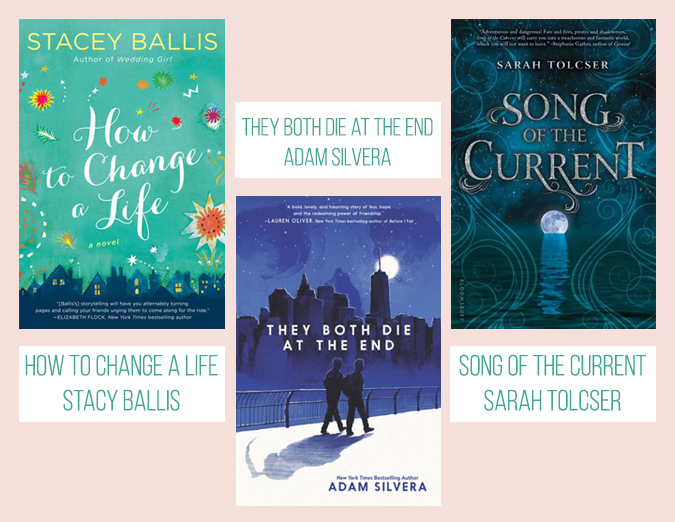 How to Change a Life by Stacey Ballis
Three long lost high school friends reunite and decide to spice up their lives by shaking it up with a bucket list. This feels like one of those stories where you come out the other side either loving or hating yourself. The reasons don't matter. To me, this looks like a feel good story and I want to jump in.
They Both Die at the End by Adam Silvera
Mateo and Rufus are strangers that share the same horrid news. They're going to die on the same day. They find each other through an app called the Last Friend and decide to make the most of their final hours. This story features an everyday thing, an app, and mashes it with the worst thing possible… The last day of someone's life. I'm interested to see where Silvera takes the story. He's a new author to me and I'm excited to jump into his world.
Song of the Current by Sarah Tolcser
Caroline's ancestors have always been guided by the river god but he has yet to call to her. So she decides to take matters into her own hands. Along the way, she finds herself in dangerous circumstances and alone without guidance. I enjoy stories where destiny calls and this looks like one of those. The summary on Goodreads has me interested so I hope it takes me on an adventure!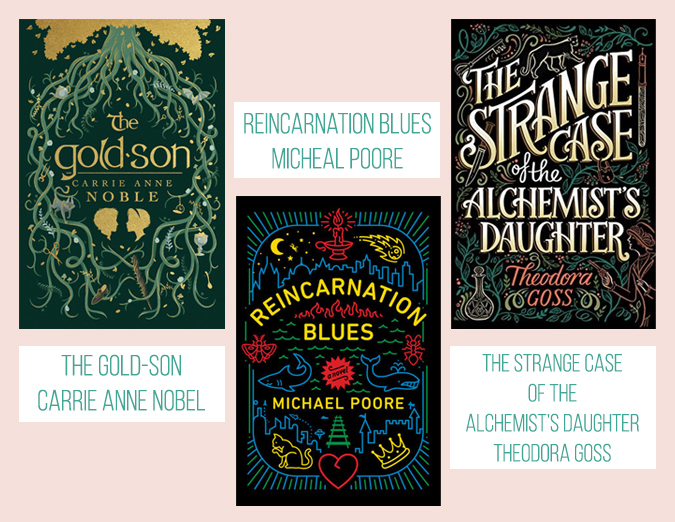 The Gold-Son by Carrie Anne Noble
Tommin wants to care for his grandmother and create beautiful shoes. But he is under a strong curse that drives him to steal more and more each day. Before he knows it, Leprechauns kidnap Tommin and he must fight to save his humanity. I was in love with The Mermaid's Sister and have been dying to read another book by Nobel. My wish has finally been granted and I'm on the hunt for an English copy of this book.
Reincarnation Blues by Michael Poore
A man who has been reincarnated almost 10,000 times is searching for his one true love, the incarnation of Death. Look at that sentence, what's not to love!? One of my favorite literary tropes is the use of reincarnation. This book is a mix of Neil Gaiman meets Kurt Vonnegut and I'm feeling the hype!
The Strange Case of the Alchemist's Daughter by Theodora Goss
Mary Jekyll is broke after her parents' deaths and is looking to turn in her father's murderer for the bounty. Instead she finds the murderer's daughter Diana Hyde. Working alongside Sherlock Holmes and Dr. Watson, Mary hopes to crack the case. On the way she meets other unique women, Beatrice Rappaccini, Catherine Moreau, and Justine Frankenstein. This book is based on some literary horror and science fiction classics so I'm stoked to pick it up. I understand that many books that feature famous characters can end up flat, but I'm placing my faith in this one.
To sum it up, I want these stories to take me to unfamiliar places and I can't wait until I can get my hands on them all. What books are you looking forward to reading this fall?
This post contains affiliate links and buying from them helps me out!