Here we go again! Another Japanese food fair that we just had to visit. We've been to the Moshi Moshi Fair before but never in Amstelveen. The last time we went to a Japanese related theme in Amstelveen was for the Japan Festival in Amstelveen. Sander and I love Japanese food and decided we couldn't let the extreme heat mess with our plans. So we slathered on the sun block and headed down to visit the Fest.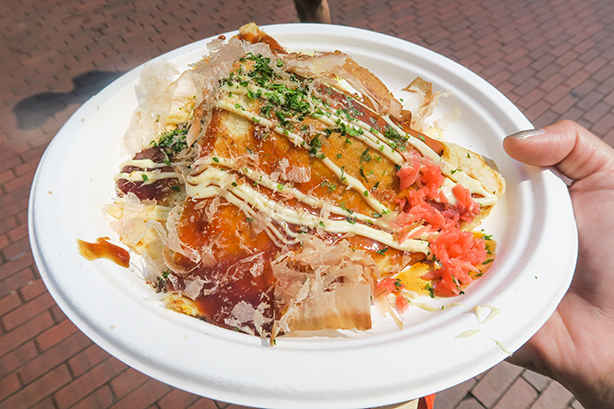 We skipped breakfast to eat some delicious Japanese foods. I ended up with the Okonomiyaki. I've been wanting to try this for a long time and I'm so glad I got it! It's basically a Japanese pancake with cabbage, various other veggies and pickled ginger. The flakes on top are bonito flakes. They're very fishy and salty but oh so delicious! Other toppings included an okonomiyaki sauce, seaweed flakes and Japanese mayo.
Sander ended up getting fresh yakitori and a steaming hot order of Karaage.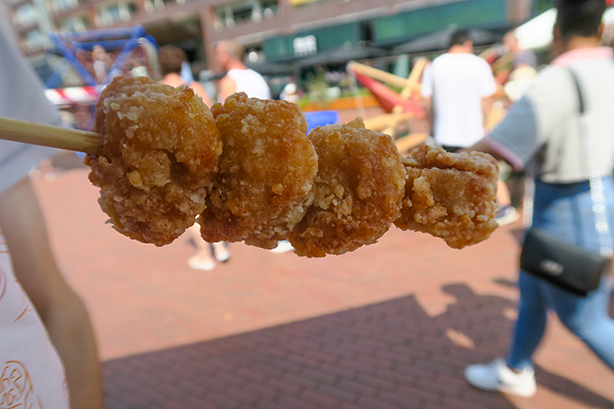 It's been years since I've been able to find a good boba stand. We were able to find one here! I love boba so much and I ordered it with matcha. Matcha powder is green tea leaves ground into a powder. I'm such a huge fan of green tea but it's my first time trying Macha. I loved it so much so I'm going to keep a look out for both Boba and matcha powder the next time we head to the Oriental stores in Amsterdam.
After we stuffed our faces we walked around the other stalls. Moshi Moshi Fair wasn't so busy this time around. It's probably because the temperatures had soared over the past few days and today was no exception. We bought a few things for the house and a few snacks as well. All in all the Fest was a good way to spend our weekend. The next one seems to be in October for Japan Festival. You can bet we'll be there too!