Sander and I live in a small flat. We've got one bedroom and one bathroom but not a lot of space to store things. This is why we've made the promise to keep our lives minimal. We don't like to buy excess because we have no place to put everything.
So this year we only bought a few more things to bring out for Halloween. Now is the perfect time to share!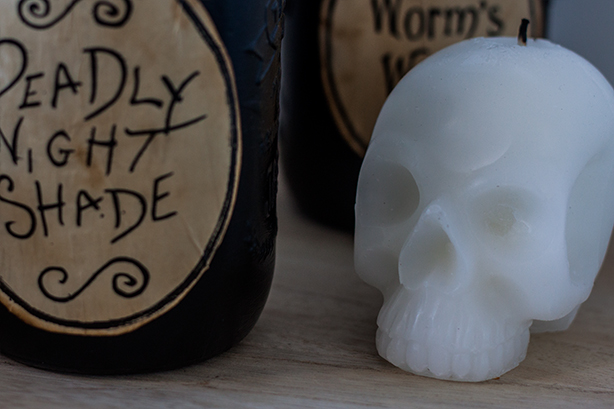 Our main decorations, those fun Nightmare Before Christmas Jars are from last year. We also have a ton of tiny pumpkins that I like to put in a vase too. This year we branched out a little bit. We found a fun skull candle at Flying Tiger. I can't begin to describe how much I love this store. While they had a ton of other Halloween items for sale, I could only justify this one candle. I've lit it once to get rid of that new candle look but that will be the only time! This way we can keep it for years to come and it will still be in top condition.
Behind it is a small vase with dried branches from a failed DIY tutorial. We already had the vase, which was from Ikea.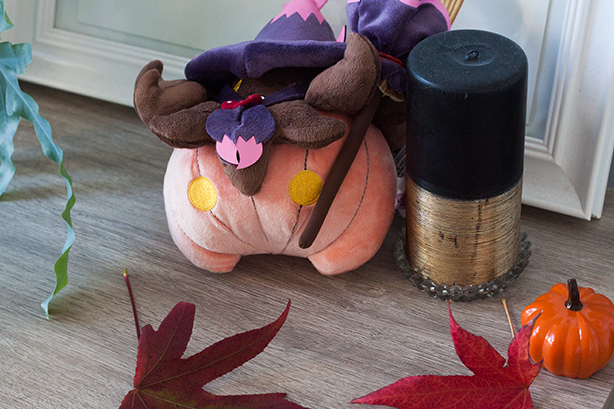 The other main addition to our collection is this adorable Pokémon plushie of Pumpkaboo. We got ours from Japan Stuffs. The Pokémon Company puts out a new Halloween line each year and I wanted to add this little guy to our home. A few years ago, The Pokémon Company distributed a digital Pumpkaboo during Halloween. I like to think that it's the same little guy that has come to us in the form of a super soft and adorable plush. The bell on its hat works too!
Once we're done with Halloween the jars and the candle can stored a small box and put in our closet. We're still working on fixing up the bedroom so I can't share our closet just yet… I know it's been forever since I've mentioned it too! But by keeping our decorations minimal and meaningful, we can enjoy them when the time comes. And of course, cleaning up is a breeze.