I've been over the moon since last night. If you've been around long enough then you know how I felt about seeing Fall Out Boy live. It was one of the best nights of my life. I had been listening to that band since I was 16 years old. Well, if you thought I was too excited about Fall Out Boy, then you have no idea.
I can trace my history with Panic! for as long I can with Fall Out Boy. The two bands have long fought for #1 on my favorites list. When one came out with a new CD I would play it over and over until the other band came out with their own. Needless to say These two bands hold a tight place in my heart.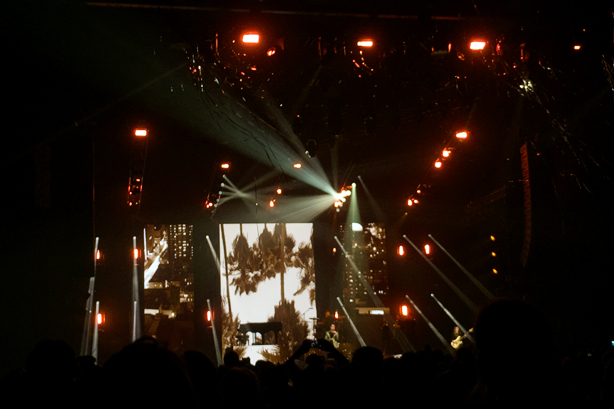 Each time a song came up, I was able to remember all the memories I made with them. One song helped me with a difficult break up. Another song pushed me through finals during school time. Music affects my mood when I listen to it. Because of this, I often pair my memories to music. These songs were relatable for me when I first heard them. Mentions of losing religion, abandoning innocence, struggling to find inner peace… All these and more always hit home hard.
Needless to say, this music was here for me when I had no one else to turn to. It's one of those situations of being in a crowd and being so alone. And enough with my antsy ramble. The night was too good for all those heavy thoughts!
It was nostalgic for me listening to some songs. Pictures of Los Angeles, Las Vegas and the desert took me back home for the first time in ages. I had forgotten about the heat, the sun, the feel of that grimy LA air and the scent of Las Vegas at night. All these flashbacks and more floated off the stage. It was magical.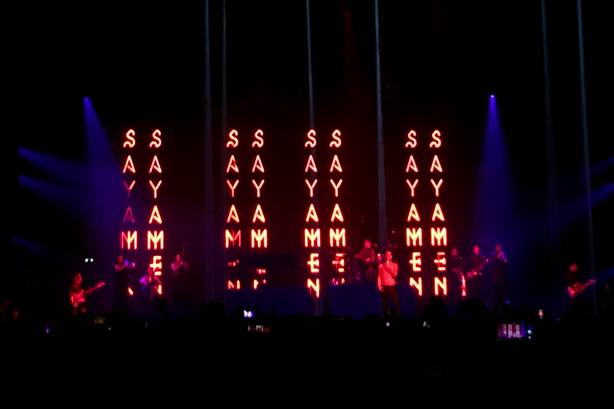 Before the end of the show, Brendon Urie, the lead singer, had a few words to share with us.
"Thank you, if it wasn't for your continuous support then we wouldn't be here today. We've been around for 15 years and never thought we'd be standing here tonight. I don't know, some of you guys might not even be that old!"
It was another one of those moments where we realized the audience was more teenager than adult… It was funny to leave the venue and see so many parents waiting for their kids. The father and daughter in front of us were so cute. He wanted to take selfies with her and she was having a blast. This father/daughter duo reminded me that there's never a bad time to share the things you love. And I got to share my love of Panic! with Sander. He was dancing right along side me. He was never a huge fan of Panic! and now he's listening to the set list any chance he can get.
One of the best parts of the night were when Urie tried his hand at speaking Dutch.
"Hartelijk bedankt! Ik hou van jou!"
This of course was met with thunderous screams of excitement.
"I stayed up until 3am trying to learn some Dutch. Thank you Google Translate!"
I've never heard a more relatable sentence in my whole life.
All in all, this sold out show was the best we've been to yet. Sander and I are still talking about how wonderful the special effects were. How Urie brought the house down with his voice and more. It's going to be hard for the next band we see to follow up with their act… Panic! has so far been the best show we've seen. It's going to be a long wait until they return but we've got the music in our hearts until then.