A delicious treat we were able to experience took place in Haarlem on the 28th of August. Proef Park had their Tasty Late Summer. This event showcases a variety of unique and savory food trucks. Of course we had to sample bits and pieces of a few select vendors. Why try out only one type of good eats when so many are available?
We first headed to the Indian food truck, Joeri Tandoeri, because I was so curious about the taste of the Tandoori. Let me say that it did not disappoint! It's been the first time since arriving, that I was able to get a bit of a taste of home. So far most of the Tandoori spices have been a little off but this wrap had the taste down. Inside was Raita paired with some onions and cilantro which made a tradition and delightful blend.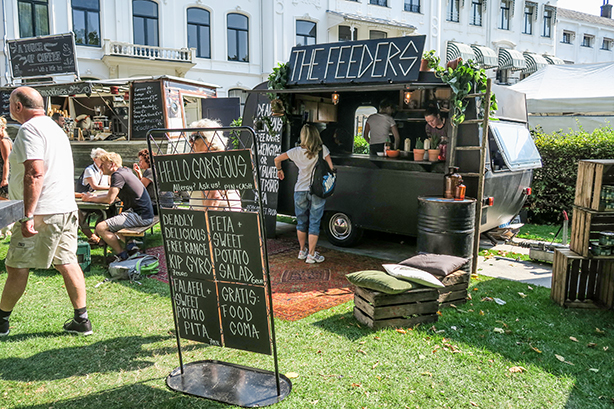 Next we headed over to a little less exotic and decided on some chicken gyros from The Feeders. They boast that their chicken, or kip in Dutch, is juicy and sexy. I've never seen chicken as sexy before but after tasting their kip, I was in love. The pickled onions and cucumber was perfect in this wrap. Even Sander, who said he was full, indulged a bit when we ordered one to share.
The first stall we saw, and the last one we hit up before leaving, was the Poffertjes truck run by Little Miss Pancake. Poffertjes are delicious tiny pancakes packed full of flavor. They are often topped with powdered sugar or other treats. I chose strawberries (aardbeien) and cream. I also went a little extra and topped that with a bit of Nutella and chocolate candies. It was mind blowing. Even Sander agreed it was the best he had ever sampled.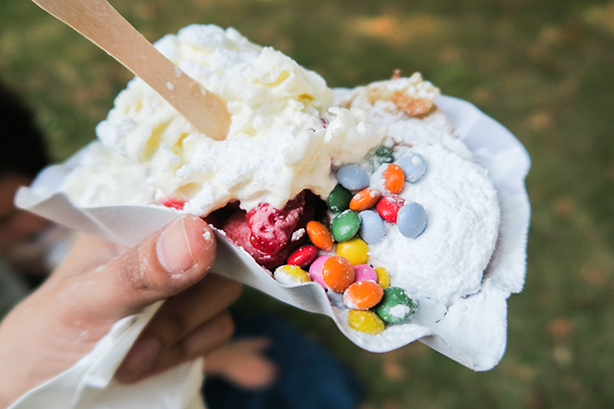 We enjoyed the rest of our time there by walking by the various stalls and taking in the exciting smells. There were lots of crafts for children to do as well as music to enjoy. Many people brought blankets to take in the warm sun. Summer is coming to an end here in Holland so as soon as the sun is out, everyone is too!