The Efteling is an enchanted place, older than Disneyland, and filled with unforgettable stories from our childhoods. The park opened in 1952 and only included a walk through a fairy-tale forest, but as popularity grew, the theme park flourished. Much of The Efteling remained dedicated to the original idea begin the forest walk. Fairy-tale lore is sprinkled throughout the theme park. Much of it focuses much on European tales, save for a few attractions. We walked past Rapunzel's tower, saw the little mermaid and read about tales I had never heard of. One of them was The Six Servants where the long necked one was on display for all to see, while plaques had were made for the other five.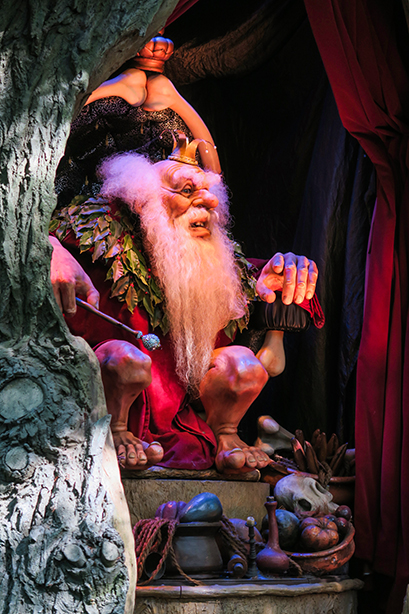 There are also roller coasters for thrill seekers and smaller rides for children. The park seems to be still expanding today. The new Baron 1989 coaster opened last year and new attractions are still to come. The ride I wanted to see the most was George and the Dragon, only because it had a large animatronic dragon set between two tracks which run parallel to each other.
There was also a museum on the park grounds. It housed many of the original ideas behind the park's creators, vision and design. The current exhibit discusses the planning and execution of one of the park's larger attractions, The Indian Water Lilies. This was one of the attractions that confused me. The figurines look like little Dutch girls. The attraction's song is "African Beat" by Bert Kaempfert. The story behind the exhibit is that it came from India but nothing about it is India.
At the end of the day we decided to stay and watch the water show. It included a mashup of many of the songs heard throughout the park. It was brilliant but we later learned that the show has a night version that we couldn't see. In the summer, the sun sets around 10pm. The last show of the day was at around 7pm.
All in all, it was a like a trip to the past. I had been a Disneyland frequenter in the past. I can say the trip could might be compared to visiting the older areas of Disneyland. Otherwise you could compare it to visiting a few years after Disneyland had opened. Much of the Efteling was very dated and stylized. That does add to the charm though. The Efteling is geared towards children but there are also areas that adults can appreciate. I would high recommend a trip to anyone who loves fairy-tales and quaint Dutch enjoyments.