Spending time with family is very important to the Dutch. Since The Netherlands is such a tiny country, it's pretty easy for family to get together for the holidays. One very popular and easy to prepare meal setting is the gourmetten spread. I've mentioned it previously but I've never talked about how to recreate one.
If you come from America, picture something like a Korean BBQ at home. You gather together and spend time chatting in a comfortable environment with friends as your meal cooks right before you. So how exactly do you celebrate the mysterious ritual of the gourmetten spread?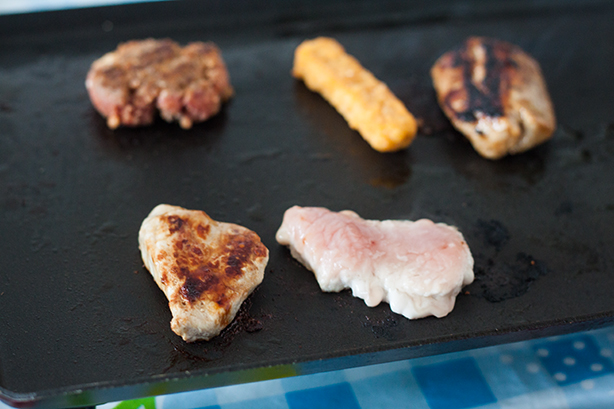 Table top grill
Since I'd imagine it would be a bit difficult to get a table top stove, you could easily just cook all the food and lay it out in a large spread. If you are lucky enough to get one then you can enjoy the full experience! The Dutch usually have a long and flat grill that can meat can be cooked on. However, there are many accessories that can be bought too. Mini frying pans are pretty popular and can be used for cooking everything from green and red peppers to eggs. Giving Amazon a simple search can yield a decent amount of results. However, as someone who encourages minimalism, think about how many times you would use a grill if you bought one. We use Sander's parents grill because we would never use one on our own.
Meats
Gourmetten calls for chicken, pork, beef. Even tofu can be used. Ideally you want meats that can be cooked easily and cleanly. Otherwise you'll be scraping the grill off after every piece is finished. Keep marinades to simple oil and water based. Creamy sauces should be put on after the meat is on your plate. Small pieces are the best and take less time to cook. Get juicy cuts with little fat otherwise clean up will be messy!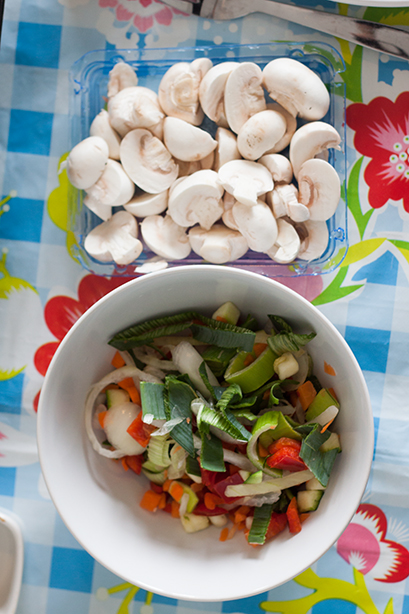 Salads
Any salad is perfect to have on the side but I recommend something very light. A simple garden salad and even fruit salad (not one too creamy) would be perfect. You want the salad to combat the amount of meat you're going to consume. While you can also do steamed veggies, I highly recommend a salad that can be passed around in a large bowl.
Sauces
This is optional. Most of the meat you'll be cooking will be with won't have exciting flavors to them so if you want to take the taste to the next level, use a dipping sauce. The Dutch ones come in bottles that you can pour onto your plate and dip the meat into. The flavors here are pretty limited so I suggest you experiment with your favorites!
Bread and garlic spread
The Dutch call this kruidenboter (herb butter) but the closest you can do outside of The Netherlands is some tasty garlic bread. It's very similar in taste and super easy to come by in grocery stores. Typically this is eaten on stokbrood (baguette). Kruidenboter can either be home made, be store bought, or already applied to bread from the grocery store. Sander and I choose this one because it's the easiest way to get our fix. If we have the butter in a container, I like to take a big helping of it and keep it on my plate. If the bread comes around but the butter doesn't, I won't have any trouble looking for the butter! It's right on my plate where I need it.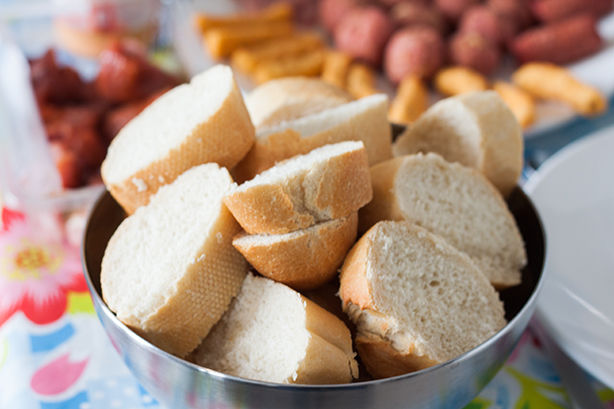 Good company
The whole idea of a gourmetten is to spend time with people you enjoy. Keep the invitees to close friends and family. The larger the group, the more difficult it gets to hold conversations where everyone can be included.