There's something about seeing an artist live that gets my heart racing. It's about feeling the music. The vibrations flow out from the speakers and vibrate through the audience. And in that moment it's you and the band. The rest of the world doesn't matter because all you can hear is the music.
We haven't been fans of Chvrches for too long. I discovered them after moving to The Netherlands. I had been searching for upbeat music to listen to and I found them on Youtube. From that day on both Sander and I have been fans.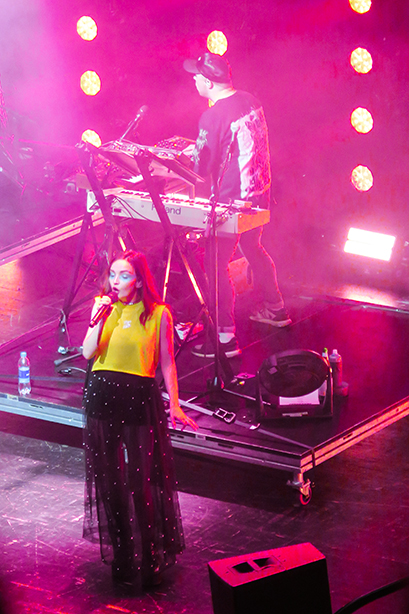 They have synth-pop music with vibrant beats and neon hues. I have listened to their CDs on repeat for months now. Their albums have been emotional journeys and I've enjoyed the ride. What excites me the most about Chvrches is that they take me back to my childhood. The music my parents listened to was a bit like this band. Chvrches also takes their inspiration from a few noteworthy bands that I remember.
When the chance for us to see them live popped up we couldn't say no.
Their live performance was out of this world. They're beautiful live and it was like listening to a CD with blasting speakers. Their energy was top notch too. It was so fun to see the lead singer, Lauren Mayberry skipping around the stage and dancing to her music. Her vocals were spot on and inspiring. And of course between songs the band took time to talk to the audience. Great times all around and I remember laughing quite a bit.
The TivoliVredenburg is a beautiful venue that had plenty of space. I can't remember if the show was sold out but we got pretty good spots. I was able to see the band better than the other venues we've been to. The standing space has a below area and the top area had staggered platforms. Sander stood in front of me this time and I could see well over his head.
We've both agreed to go and see Chvrches again if they come out to visit The Netherlands. The last time they came was years ago and they were happy to be back. I'm so glad we took the time to go out and see them because it's a show we're not going to forget any time soon.