Autumn is all about sweater weather and watching the leaves fall. But who could forget baking and consuming delicious treats. And of course what else says autumn more than going apple picking? Autumn is the time of harvest and in America we celebrate Thanksgiving. This is a time for being thankful for what we have and treasure the fruit of our labor.
Well if you're like we are, then you don't have much space for an apple tree! So instead we headed down to Olmenhorst to take part in their orchard picking. We've had spectacular weather and decided a bike ride would be perfect. We rode about 30 minutes to the farm with a strong bag big enough for a dozen apples! Of course we ended up with only 10 but our haul was still a big one.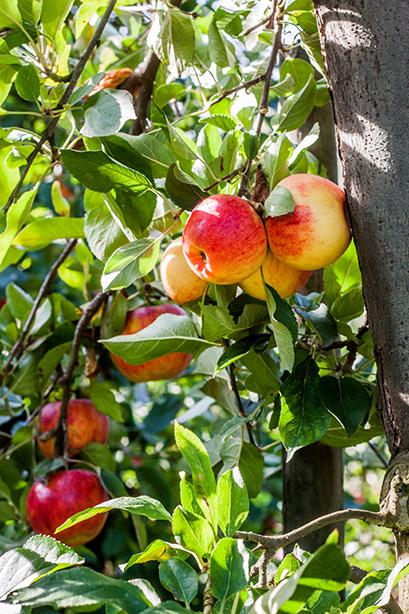 The farm was packed with people and we were thankful that we had come on bike. Parking was also free for us but €3 per car isn't too bad either. Bikes were easier since it was the two of us. The majority of the attendees were children! It's a good thing there was also a large playground complete with horse drawn carts for parents and children to ride in.
But back to the apples!
The apples were the largest I've ever seen. And there were thousands of them to choose from! We picked a row of trees and wandered down the line. Each tree was tall and heavy with fruit. The red and juicy apples were so easy to pluck too. We didn't have to go far before our bag was ready for check out. It's the two of us and we didn't need many.
It's pay by the kilo and ours came out to around €4. Trust me though, when I say there were people with wagons of apples (wagons that were full with buckets packed to the top!). I couldn't believe my eyes with how many apples some people had. But hey, it was pay for what you pick so if they had a use for it then good on them! It's so nice to say we picked the apples we were going to be eating.
After we paid we headed down to the bakery to indulge a bit. Riding our bikes hadn't been difficult but we wanted a snack before we headed home. So we picked up two slices of fresh apple pie. It was the best apple pie I've had in such a long time! The cardamom was a little bit on the heavy side for me but Sander loved it. The crust was perfect too, I wish I could have asked for the recipe!
Apple picking at Olmenhorst is open until the 21st of October so be sure to make plans and head down there before it's too late!