Sander and I love ramen. Maybe a little too much. I've often written about Ramen-Ya in Amsterdam. The food there is amazing and we always go when we can. But sometimes Amsterdam is just too far and out of the way to go for a lunch date. And have you seen the downtown parking rates? Just wow. So this time around we decided to visit Tokyo Ramen in Amstelveen.
We've seen the restaurant many times during our Japan Festivals but we never made the time to go. A few weeks ago I found myself craving some ramen and so we hopped in the car and made our way to Amstelveen.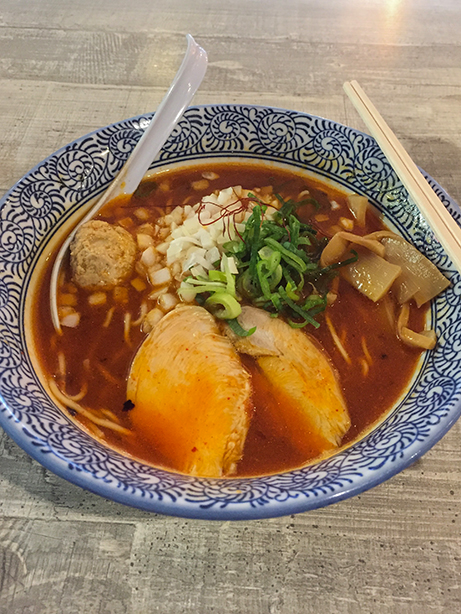 Tokyo Ramen is nestled in the heart of the Stadshart shopping center. It's a sprawling mall that caters to all shopping tastes and interests. We made our way through the shopping area to the outdoor space. It's the location of the previous Japanese Festivals but now it was mostly empty due to the poor weather.
Tokyo Ramen is a small space but large enough to accommodate people both inside and outside. The outdoor seating was empty but I'm sure it's amazing in the summer. Inside is moden, beautiful but with a delicate touch of Japanese decor. We got to choose our seats and made our choices.
Sander decided on some Miso Ramen while I went after the karaage bowl. Our appetizers were karaage for Sander and I decided on the takoyaki. Takoyaki are balls of dough with pieces of octopus inside. Our food came quickly and we got to dig in!
The takoyaki was mind blowing! It was coated in fish flakes, Japanese mayo and a special sauce that added a slightly sweet flavor. The balls were well coated and it was easy to eat a piece whole. I've been wanting to try them for years and it was amazing. They were slightly salty because of the fish flakes but the mayo made it rich and buttery. And the green onions on top added for a delicious pop of color.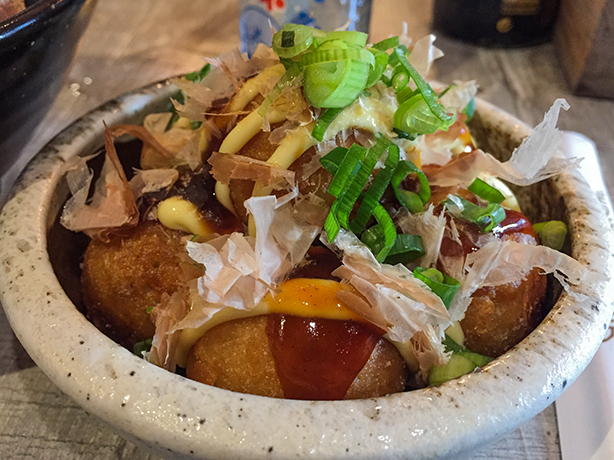 My main dish, my karaage bowl, was piled high in crispy but moist chicken. Karaage's main flavors are ginger, garlic, soy sauce and sake. Oh my gosh, my mouth is watering just thinking about it! Now I've made karaage at home before and I know the sort of work that goes into it. That's why I don't make it often. But this… This bowl hit the spot! The white rice under my chicken was sticky rice and so easy to eat with chopsticks. The shredded cabbage on the side was a wonderful pairing with the chicken and rice. There was a huge dollop of Japanese mayo to dip the karaage in too!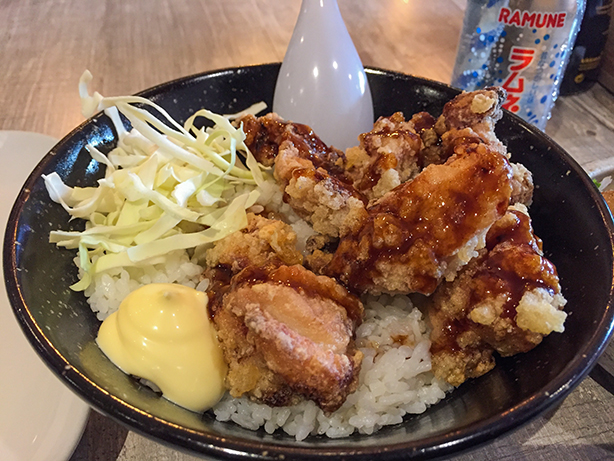 Sander and I stuffed our faces and enjoyed every bite. It's a bit of shame that it's so easy to visit Tokyo Ramen… It was so tasty and we might be tempted to eat there more often! I highly recommend paying them a visit if you're in the area. It hits the spot for someone looking to eat some fantastic Japanese food. They serve all sorts of other things too, so if you don't enjoy ramen, there's plenty else to choose from.