Every morning the trees are deeper shades of reds and golds. We're greeted with crisp, autumn air and the sun takes longer to come up over the horizon. I never thought I'd get to experience a change in season because I lived in California. Now that I can experience autumn… It's something out of a fairytale.
Sander offered that we travel to the local park since it seemed to be a hot spot play Pokémon GO (yes we're still on the hype since we missed out much of the early game play. We're still both under level 20) so we decided to put on our warm jackets and boots and go for a walk.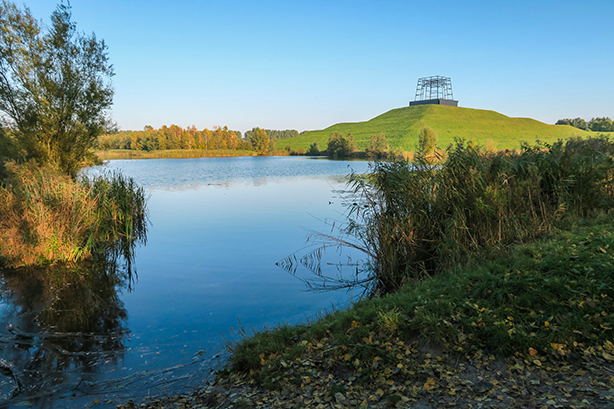 We took the stairs up to Big Spotters Hill. It is an artistic monument meant as a view point to observe horticulture exhibitions. The park was large enough that we wandered around for two and a half hours and didn't even reach the other end of the park. There were tons of different paths to take. That all depend on if you wanted to see the water or stay closer to dry land. The trees were beautiful though. So many of them were green but many had begun to change colors as well. The paths were well walked but still had the sense of the autumn wilderness behind them. At times I felt like I was in a forest and not in the park in the heart of town.
"Owners know that if they bring their dogs here, their dogs are gonna end up wet!" Sander and I passed many owners with all sorts of breeds. We saw everything ranging from Maltese and Yorkies up to Great Dane and Greyhounds. At one point, we happened to find two different walkers, both we'd seen on the previous paths, who had three dogs each. When the two strangers met up, each with their three dogs, all six dogs had a field day! Two Greyhounds, one Dane, and three large breed mutts. I told Sander that one of the mutts looked like a lanky werewolf. So adorable. All the dogs here seem to be very socialized and many wander off leash within arms reach of their owners.
In the end, we didn't catch much. Our GPS signals are pretty temperamental but we did enjoy the clean air and the feel of autumn around us. We'd like to go back and take a long walk again, but only if the weather permits it. It was pretty cold and Sander, who had begun to show signs of a cold, ended up getting worse. The unpaved pathways would result in a mud bath!