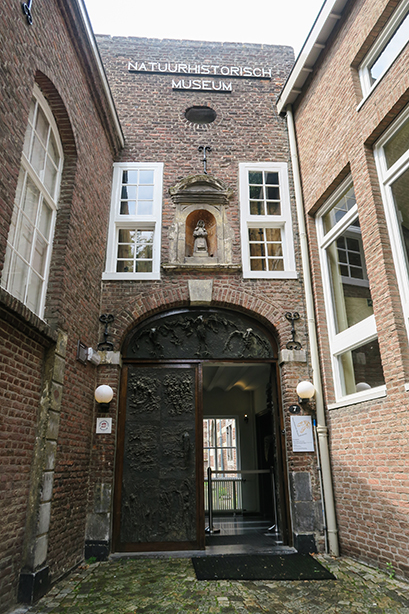 I have a fascination with death. It's not a creepy unhealthy one (at least I think not). It's one that drives me to visit as many natural history museums as I can. I think it was fueled by my father and his interest in the sciences. Weekend outings were filled with trips to local science centers, museums, and art galleries. We would watch documentaries if we couldn't go out.
I don't want to paint my childhood as one where I spent all my time learning. I had a rocky relationship with my dad. While he wasn't the bed father figure, he did encourage me to learn. And to this day, I still feel that need to visit bones on display.
Sander and I paid a visit to the Maastricht Natural History Museum while we were in Belgium. All the information was in Dutch but I had Sander to translate what I couldn't read for myself.
What sparked our interest in visiting this particular museum was our trip to the caves. We learned that Maastricht was named after the Mosasaurus (according to our tour guide). She mentioned that a copy of the fossil could be found at the Natural History Museum. The original had been stolen by the French decades ago. What we learned from our tour really sparked our interest in what the museum contained.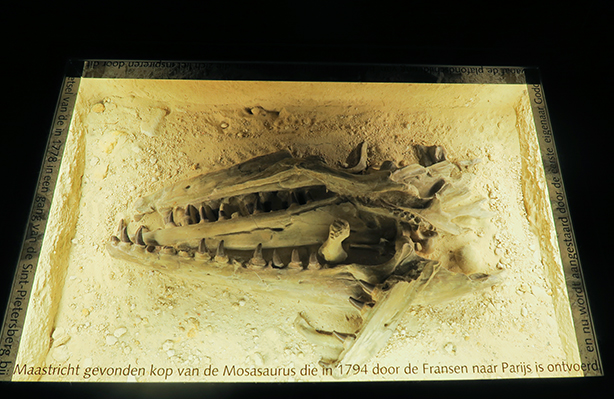 Our curiosity got the better of us and we make the trek to the center of Maastricht to visit the fossil. Of course we saw tons of other things but the highlight was the Mosasaurus. We took a trip through time from the very beginning to the present during our journey. While the museum is pretty small, we did have a good time. On top of dinosaur bones and interesting facts about the fossils from around Maastricht, we got to see native fish, animals and birds on display. There was even information on what animals were on the edge of extinction and the efforts taken today to keep them safe. The entire museum took us around an hour and a half to complete so we had plenty of time left over.