I'm notorious for forgetting things. I also love looking at bullet journals. Last month it hit me, why don't I create a bullet journal that helps me remember things! I never thought about keeping a bullet journal for a few reasons. One, my schedule will never need a journal. I spend most of my time at home working on personal projects. Two, I don't socialize a lot and any plans are usually on my Google calendar. Instead I decided I needed one for this space! For months I've been making good progress on a daily lee, so why not take it to the next level?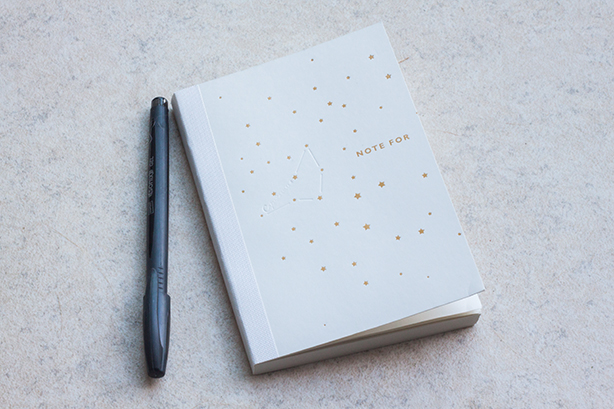 The supplies
I got most of my bullet journal supplies from Miss Rosie. They have a great selection at reasonable prices. Do be warned that all the items come from other locations so if you order a lot you'll get several packages. There's no estimated receive date either so I don't recommend you order from them if you need the supplies ASAP. I still like the shop and will continue to buy from them though!
My notebook is from the Zodiac Signs Notebook collection. It's the Capricorn cover! It has a mixture of blank pages, dotted pages, and grid pages. I had trouble finding a first time notebook with only dotted pages. I decided instead to try one with all the variants to see which I enjoyed the most. Right now I like the grid because it's easy to keep everything straight.
In all honesty you can get away with the notebook. You don't need anything else if you don't want to buy them. I've seen beautiful spreads make with pencil and ink. Your bullet journal can be as creative as you are! That's the beauty of it.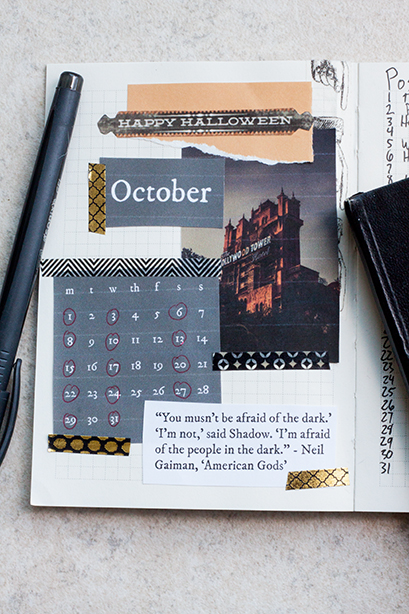 Decorating the first page
I still struggle with my art style so instead I decided to do what I do best… Make a collage! First I found some pictures that inspired me. I love browsing the website Unsplash because of their high quality and royalty free images. I found this image of the Haunted Tower in Disneyland and thought it was perfect. It also helped me set down the theme of my page. I wanted dark colors and pops of orange and yellow.
To fill in some space, I wanted to print out royalty free images. I went to DeviantArt and found what I needed! User Missesglass has printable Halloween "stickers". I guess my printer didn't like them much because the images came out a bit rough. I might have to clean it!
To add texture and break up the space, I found colored paper and tore it before glueing it down. I've also have some beautiful gold washi tape I've been saving for over a year!
Rounding the page up is quote from one of Neil Gaiman's book American Gods to add a little more text onto the page. I had meant to soak it in tea to stain it but I got too excited and glued it down early! Once I was on a roll with how I liked the layout I pretty much went to town with my glue stick!
On the opposite page, I decided to number out all the days of the month. I have prompt ideas written out for the days I wish to make a post. I'll be making a few extra posts this month since I want to grow this space and add more content. I'm still going back and reworking older posts to keep them up to date though! But I'll be keeping future topics a secret for now!
I plan on making one for every month. Would you be interested in some downloadables for your own bullet journal? Let me know and I can work on making some!