I need to preface this and say my eating habits are changing all the time. I like to experiment with what makes me feel good and what I have cravings for. I'm not a dietitian and I encourage you to find food that enjoy eating and makes you feel good! Everyone is different and you should listen to what your body needs from you.
Less is more
I'm one of those people. I don't mind eating the same meal for months at a time. For a year I ate fish and white rice for lunch. But in the end I wanted to make healthier meals. I wanted to feel good, energized and productive after I ate.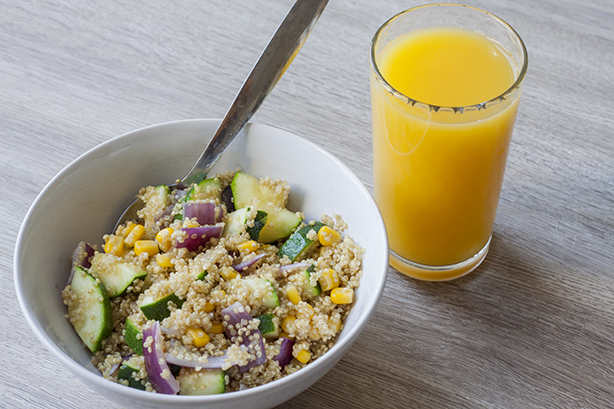 I've tried eating salads in the past but I was never full after them, never satisfied. So one morning I thought about what I had cook recently. Then I recalled a delicious salad that called for quinoa. And I though, why not a quinoa salad for lunch? With inspiration from Chelsea's Messy Kitchen, I planned a grocery list. Since then I've been having quinoa paired with zucchini, corn, red onions and sometimes spinach. It takes less than 10 minutes to make and even less for me to devour it. What I love is that it doesn't take time away from my day. I don't mind cooking for others but I hate cooking for myself. The ingredients are still abundant and last a little more than the a week. This way I can keep myself accountable for eating well while we can't go outside.
Savory comfort foods
Right now my go to comfort meal is ramen and spinach. Hardly healthy at all but it's easy to make when I'm no in the mood to do anything. Ramen has always been my go to food for when I'm lazy, so adding some green to it makes it a little healthier. I try not to keep too many ramen packets in the house though… Otherwise I'd only eat that! My previous eating habits were terrible before but I'm doing my best to keep my meals clean.
Sweet comfort foods
I still do indulge in comfort foods but they've changed too! I used to love eating chocolate all the time. And then I found out it was doing horrible things for my skin. So I cut out chocolate and found other delicious things to enjoy. I've been enjoying stroopwaffles again and this week I made a cheesecake. It's been nice to have a craving and be able to make it myself. But our local stores have been out of flour for weeks now. We haven't been able to find a single bag so I'll have to stick to flourless baking for now.
Same dinner, different season
We've always stuck to the basic meat and veggie dinner plan because it's simple to make. Sander's meals include a helping of curly fries while I try to stay away from them. Try is the key word here! I'm excited for summer because I'd like to shake things up a bit. I'm not sure how well I can do because Sander does the groceries now that only one family member can shop. So if I find anything worth sharing, you'll be sure I'll let you know!