Our ladies celebrated their birthdays last month! Booker is now 2 years old and Haru is 1. It's been a rollercoaster with these two Shiba Inus but I wouldn't trade it for anything in the world.
These two mean so much to us that we celebrate their existence in our lives everyday. It's only once a year that these little ladies get older so we take the time to go the extra mile.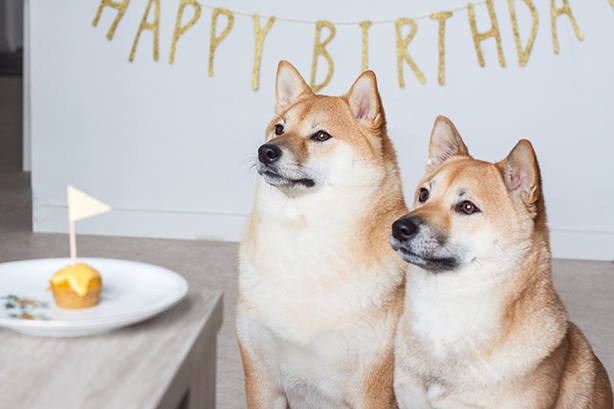 Baked goodies
Last year I baked a whole cake for Booker's birthday. This year was much easier. My Dutch tutor allowed me to borrow her tiny cupcake molds. I used the same recipe from last year (since even picky Booker enjoyed it) and it came out perfect. All I had to do was add the frosting and give one cake to each shiba. They were in love!
Sharing the love
I'm a pretty quiet person so the neighbors I know are because we all have dogs. This year I decided to hand out extra cupcakes to their lovely dogs as well. I would consider our dogs to be friends with the others so why not? Kids would bring cupcakes to share in school when I grew up. I figured it would be a good gesture to hand out treats to the friends of my dogs too!
New toys to love
We tend to spoil our Shiba Inus a lot. This year they got a ton of chews as presents. They love to sit for hours and gnaw on bones so it was the best gift to give. They've become more playful with plushies (made for dogs) so those don't last too long. It's such a shame because Haru looks so cute when she sits with her stuffed animals!