It's a big deal when Sander and I go to Amsterdam. We early wake up, have a light breakfast, and pack our bags. See when we plan a day out in Amsterdam, there's only one thing on our mind – ramen.
Our go to place is on the outskirts of the Red Light district, at underground level, but don't let that fool you. Ramen-ya is home to some of the most delicious hakata ramen we've ever had. Hataka refers to the type of noodles handmade in the restaurant. They're straight, firm, and thin and please our deepest cravings.
The interior is beautiful and simple with earthy woods and black accents to call you in. The place is busy at all hours of the day but the service is quick every visit.
But wait.
What is ramen exactly? If you look past the cheap grocery store noodles, ramen has a deep and beautiful history. Originally from China, the Japanese adopted wheat noodles and broth soup into their own culture. Ramen takes hours from start to finish but what we order here is a masterpiece.
Ramen-ya features two types of broth base, soy or salt. The most common meat included is pork but we order the chicken in the soy based broth. Our go to meal is the Sesame Chicken with a side order of Karaage.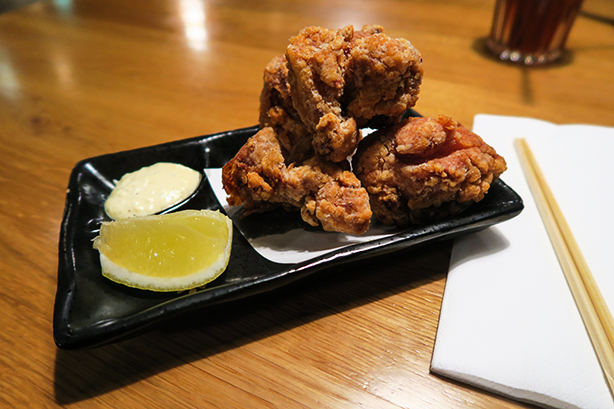 Karaage is a double deep fried (extra crispy exterior) chicken made with soy sauce, ginger, and garlic. I've made it at home before and it's super easy to throw together. What makes Ramen-ya's Karaage special is the dipping sauce they provide. The chicken is out of this world alone but add the sauce in and you might die. It's a gentle garlic and mayo combo with a hint of something I just can't place…
And onto the main order, the ramen. The bowls are gigantic. We've yet to finish one. If the noodles, boiled egg (marinated in soy sauce) mushrooms and hearty helping of meat don't fill you up then the soup will. I like mine a bit spicy so I always add in some chili. The broth is creamy and delicate. It's a little salty for me but I never add salt to our home meals. The pieces of chicken are soft breast pieces have a slender cut to allow the broth to penetrate the meat. The mushrooms are well cooked and not rubbery. The egg is soft boiled to perfection and still holds onto that salty soy flavor. The entire meal is something that is a must try for anyone who loves Japanese food.
It will not disappoint! One of these days we'll get the courage to try it but for now we're content with that savory chicken flavor we've grown to love.